Its 9:41 pm
Spring is finally really starting to show up here in SE Michigan. Today it reached 56 degrees,a relative heat wave compared to the last couple of months. But I'm so ready for warmer weather,to be able to get outside and enjoy the warm sun...I told Lori I'm pushing her to the mailbox tomorrow to get the mail and taking the long way to get there...
Yesterday was our first day of home hydration,a visiting nurse,Ashley,came out and showed us how to administer the gravity drip I.V.
Each bag is supposed to drip 2 drops per second for a total time of two hours per bag. Ashley suggested we break up the hydration into two sessions,one during the morning and one at night. She showed me how to change the bag and perform the S.A.S.H. routine with the I.V.
I admit,I'm a bit nervous when it comes to doing the session in our living room as its carpeted and the IV is not very heavy meaning that if Lori trips while going to the restroom,she could pull out the needle and tubing and cause a major event. The first bag went well yesterday and the change over went well except I slowed the drip too much and after 2 hours we were only half way done..since Lori also threw up during the session,we called it a night and pulled the plug. We followed the clean up protocols and called it a night.
Had a rough night sleeping last night as I lay there watching her sleep,this is where my deepest sadness kicks in...it really hits me worst at the night time and I can hear all the dreams we have just go up silently in smoke.
Today was Good Friday,I had to work at 7 am and couldn't take Lori to the CT scan...because we need the money just way too much now. My job is only 25-29 hours a week now and the pay is flat-out embarrassing for someone with my experience. But try and find anyone willing to hire me with what is going is a pipe dream. No one is going to want to help someone get a good job while knowing their spouse is slowly dying. Not in these times.
We reached out to our friend Cheryl to help us with taking Lori to the clinic for the CT scan. We were blessed that she was able and willing to drive 10 miles to take Lori across the street for her test.
What was rough about this test is that Lori couldn't eat anything two hours before the test,then drink the contrast at 9 am,wait an hour,then do the test and come home at 10:30 am. I got up early to give her the early meds and also drink a Boost,which along with Carnation Instant Breakfast,seems to be our main food item as just about anything just doesn't stick with her.
I gave her the meds and put the Boost down before heading to work. She said she meant to just close her eyes just a second but woke up at 8:30 am,too late to drink her breakfast. This turned out to be a rough morning. She asked the CT scan to be allowed to drink only one cup of contrast because she was afraid she would throw it up before the test could be completed. They agreed and were able to run the CT scan.
Afterwards Cheryl took Lori to get a cold drink at Tim Horton's when all of a sudden,she asked Cheryl to pull over in the parking lot where she promptly got sick.
They then headed home....where Cheryl then unloaded a wheelchair for us to borrow from her husband Jerry's leg surgery from earlier this year. This will be a huge help for us in getting around,not every place has a public wheelchair available for use.
When I called and heard what had happened,I suggested to Lori we stay sort of low key tonight and she agreed. We had planned to go to Good Friday services but I didn't want to press our luck. I finished my shift,bought two Easter Lilies for our neighbor Kathy and Marlene (Crash's mom).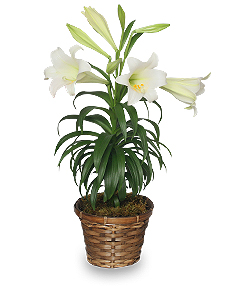 I then drove over to St. Thomas a Becket's church after work to donate a another pint of blood for the American Red Cross. This was my second pint donated this year which leaves me five behind the seven that U of Michigan has given Lori so far.
The church was very busy with donors and church folks planning the Good Friday service. I walked down and was whisked away to a room outside the main donor area...felt a little weird about that as I could see folks who had made appointments being seated in the main area. Nonetheless,I went through the pre-screen and before I knew it,I was giving the gift of life.
I really hope that it can help do just that...to make a difference in someone's life. And I know in 57 days,I'll be back again to donate once more.
Got home at 5:30,delivered the Lilies and then asked if the CT results had revealed anything...it seems like Lori's bowel is swollen and they could see a lot of liquid in her tummy (no shit! really???) They have advised us to not to eat or drink anything much over the weekend. That is really rugged because we sort of need food intake of some kind for the meds we are taking. The vomiting is still happening and Lori's stomach is very sore from that. I am angry for first time at the oncology team,they had a perfect window to see what we are going through but they elected to let that NG tube stay in and we couldn't present Lori's troubles at night.
Now we have to wait for the entire weekend on a very limited diet before our appointment with Dr. Johnston...
Lori had a box on the table,she asked me to look at it....our lovely friend Theresa (Lady T) sent a beautiful card and Rosary to Lori. I cannot say "Thank you" enough for the cards....I have taken to rotating 3 different cards on our fridge to help brighten Lori's day.
I also want to create a "Fun List" for her as well....like going to a Tiger's game,seeing a live concert,eating at her favorite Iron Chef's restuarant...Roast which is owned by Michael Symon,another trip to Put-In-Bay and most of all,a return trip to Chicago..I already am hopeful about the Tigers game but will have to wait til the weather gets much warmer and she can get stronger.
I don't want to end this on a sad note....so I'm going to post another videoblog from actress and animal activist Elaine Hendrix,this is actually Week 12 of her Love and Compassion series but since its Easter,I thought it was more timely to share this now.
Thank you for everyone who has started to help push this blog,especially Sabine Flynn,a dedicated Twitter PR guru who has promised to help me get the word out. It means so much to me to say the very least...
Happy Easter!
Theresa- Thank you for the wonderful Rosary!
Cheryl- Thank you for the wheelchair and for taking Lori to her appointment.
Scorpion- Another great blog!
Sydney - Good luck in Las Vegas! Hit the ground running...
Brad Meyer - Good to know there is a fellow Emergency fan among us!
Jessica- Thank you for leaving comments,you understand what comments mean to us bloggers!
As always,a special thanks to Amy and Michelle Ball for their love and compassion....
If you're new to the blog and like to send Lori a card...
Lori Sullivan
45249 Lemont Rd
Canton,Michigan
48187