Its 12:56 pm
Been a while since I wrote so I here I am...
Its a beautiful day here,in fact the weather has been downright amazing the past 4-5 weeks. We never did get any severe weather like we normally do in May/June. Of course it would be nice to get some rain but that usually comes in the way of big thunderstorms so maybe turning on the sprinkler might be the way to go...
At this time last year,Lori was in the middle of her chemo...summer for us was just maintaining a level head and focusing on getting well...while the inside of the house was taken care of by myself,we didn't get to do much gardening outside as avoiding the sun is a key element in cancer treatments. So nothing really got done.
But this year we are so glad to be back outside...this summer we are repainting/staining our deck,putting fresh mulch down in the back patio area,planting new daisies and reshaping the front yard a bit by taking out old roots and mulching over them. At the of this writing,the back planting has been done and the front yard has been prepped. We spent a day outside weeding,raking,trimming and cleaning up. Now we just need to get the mulch when it goes back on sale.
I decided that red mulch would add a nice color to the back yard and picked up 8 bags at the Home Depot. It was a killer price at 4 bags for just 10 bucks. Now when I got home and spread it out,it did look nice. But we had done brown mulch the past couple of times. Lori wasn't sure she was going to like it and said so when I told her on the phone what I got. I preached patience and said "Wait til you see it before saying no".
Our old brown mulch..........right?
Our NEW red mulch.....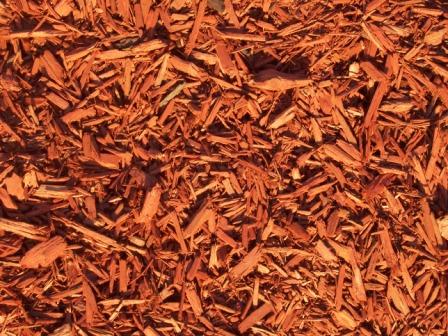 What do you think? It makes for a nice brighter change of pace. After seeing it down in the back patio area,she agreed and actually wants to re-mulch the rest of the front yard in red as well....yay! Now of course I have to wait til it goes back on sale again....cause I'm not ready to spend 4.00 a bag when I got it for a mere 2.50...right?
We also decided to build a brick wall in the back as well....we had a black liner that separated our grass yard from the rock beds we have now. Only now the liner is slowly being destroyed by the elements and time. Now this will be a real challenge as its going to take some serious building to do to get this right. Plus since we both have smaller cars,getting the brick home will take some doing as well...I wonder if Kickstarter would let me raise the money to fund my project? *LOL*
We also planted some new flowers and decided not to try and grow any veggies as it was a total failure last year. I am thinking once we build the new wall this year,next year we'll finally be able to build a boxed in garden and try it again. We need the garden to be elevated off the ground as we have rabbits galore roaming about,waiting to pounce on anything that looks good.
We also got our supplies ready for the repainting of our deck. This happens about every 3rd year for us. We don't like to have to do it but the weather changes pretty much demand it unless we want a deck that looks crappy. The first year we were here,our buddy Scuba Steve and I painted it by hand. It was a real pain in the back but it turned out really nice and lasted two years. Then Lori and I repainted it using rollers and left me wondering what the hell Scuba and I were thinking about using hand brushes!!
And just like our mulching project,we decided to switch the color of the deck from Cape Cod grey to more a of a muted vanilla. I think it will add a nice contrast to the red mulch and the new plants we are planting. We were aiming to do this this weekend but Lori's dad decided he wanted to visit us so we are hosting them instead. Haven't figured out what we're going to do other then maybe a run down to Cabela's Sporting store in Dundee and maybe a trip to Menard's in Toledo. Of course just as I have wrote how much I dread when Lori drives up there by herself,I have the same sense of dread knowing her 90 year old dad is also making the 470 mile round trip down here.
But since Irons is such a small town and there really isn't much to do,I can understand why he wants to get away and visit us. Plus getting a pair of home cooked meals doesn't hurt either as we tend to cook her dad's favorite dishes when they come by. I'm going to really push that we visit his sister since they don't really get a chance to see each other much.
Of course this will lead into baseball talk as the Detroit Tigers continue to fumble and stumble around while the mighty Yankees are starting to surge and might be in first place in time for the first round of the Subway Series against the New York Mets.
For the 3rd year in a row,sportscaster Tom Leyden from Channel 7 and myself will be battling for bragging rights as the Yankees and Mets battle for 6 games to be King of New York. Two years despite splitting the series at 3 wins apiece,I lost the bet on ONE RUN and after being denied help by my two other Met's fans in finding me a cheap ass Mets cap,had to post the Mets logo on my FB for 6 weeks to pay off my bet.
Once people saw THIS on my page,all sorts of sprack happened...people asking me if I became a Mets fan,if I was going to rename my cat David Wright,did I ever find a cap,did I want free tickets....
Wow....such heat.....so of course when the Yankees won CLEANLY 4 games to 2 last year,I got a note from Tom telling me to tune in for the last minute of the Sunday show. True to his word,Tom acknowledged our bet and doffed the Yankees cap on the air.
But this year is going to be a real battle,actually both teams are playing much better then expected as the AL Beast is once again showing us why its the best in major league baseball and the NL East is also a serious dogfight with the Mets finally getting their first (Jim Joyce) no-hitter in team history and staying in the division title hunt. Its going to be too close to call so as I told my brother,I just hope the Yanks can put a 10 run beat down in the first so just in case its a tie.....*L*
Of course I have to share this moment with you as well....on Sunday on the Sports Update show,they have a segment called "Stonehead of the Week" in which sports radio host Mike Stone points out a stupid incident in the world of sports and gives them a "Stonehead". Its pretty funny and 99% of the time,Stoney gets the call dead on.
So last Sunday,Tom turns the segment to Stoney and he instantly gives baseball commissioner Bud Selig the "Stonehead" for not allowing instant replay. He points out several bad calls that happened against the Tigers recently and then as starts to mention the blown call that allowed the Mets and Johan Santana to get that no-no,Tom says" If you mention the Mets call,I'm outta here!"
Stoney then starts talking about and true to his word,Tom bolts...Stoney calls him out for being a Mets fan and then finishes the segment including the lead into the commericals! Its was just awesome and I was laughing so hard. Its refreshing to see such good TV with two very respected journalists just having unscripted fun and its why Sports Update is MUST see TV even at 11:30 pm on a Sunday!
As you can see,talking about the Tigers probably won't be happening much this trip...
And keeping on the sports theme,the college football magazines are hitting the news stands. Before the 'net,a fan would circle June as to go get the newest copies of the previews zines and see where their favorite team was ranked,who they recruited and what the schedule was.
These days,every day is June as there so many different outlets to gather information,like the blog I have on my wall here,The Sun Belt Insider. One can get scheduling news from Kevin Kelley's FBS Schedules website and even fan driven content on Yahoo Sports.
But since I'm a oldster now,I still like buying the zines. I used to get Street and Smith's preview issue but now its only Phil Steele's book that I buy. Guy just LOVES college football and it shows in how much details he manages to squeeze in 344 pages.
Of course being a San Jose State fan,I have to see what he has to say about the Spartans. Wow,Phil Steele is sorta of liking us in 2012. He has many Spartans on his top players list,has them on his Most Improved List yet only has them 3rd in the much weakened and final season of the WAC behind Louisiana Tech and Utah State. And also while he has them having a good season,he doesn't have them in a bowl game despite all the hype. I think the Spartans really need to win the WAC to springboard into the Mountain West on a high note. They can ill-afford to finish 3rd or less. But there was one unexpected piece of good news,attendance is up to over 18,000 per game (Spartan Stadium holds just over 30,000) so at least the fans are starting to show up again. The schedule is more suited for the team as well with no major bodybag games but will still face two very good teams in Stanford and Navy,both on the road.
I still haven't heard from my current interview subject so I'm going to move on to the new person I'm interviewing,New York based fashion designer Evon Cassier. This one will be pretty damn cool,I can assure you that!
And to my good friend Rees,I'm going to address your heartfelt and correct post this week. Because I agree with you....
Until then....thanks for reading!