It's 11:00 pm
Thank you for reading my last entry and also for both commenting on it and sharing it. I was sort of expecting some sort of blowback to this entry but I really didn't...I got a lot of positive feedback actually and I am grateful. I would have been understanding if I had indeed been accused of being a tad too sensitive.
But what made me feel good were a couple of comments who said they were not aware of going to a training hospital for treatment,hey,if one person can be helped then I am happy with that.
So lately I have been watching DVD sets when I come home at night. Oh I still do Dollar Tree Theater but lately its been all about watching TV series. The prices are very good for older series and older seasons of current shows. I actually had started getting a few of these years ago and had intended to collect whole series like "Monk" and "Lost" and then watch them so I didn't miss anything.
While getting individual seasons is a bit a of crap shoot because the lack of shelf space at your local Target and Wal-Mart,I don't just look for those. I keep my eye out for short run series as well...which is how I found "Daybreak" at Dollar Tree. Also found the first season of "Wanted: Dead or Alive" which starred Steve McQueen and during one Dollar Tree run,I found a season of "The Greatest American Hero" and also a specially selected 10 episode discs of "Friends" and "Thirtysomething" which I got for Lori.
I had heard and read many things about a very short lived series called "Firefly" that had debuted on Fox. I never got a chance to see it as Fox canceled it after only 11 episodes had aired. I only remember reading the Joss Whedon,the producer of Buffy and Angel had created it and at first glance seemed to be a hit. But the ratings sharply fell and as per the Fox way (which is still true today),gave it the hook.
But a funny thing happened....Firefly did not go quietly in the night,it slowly became a cult favorite among fanboys with conventions being held around a show that last a mere 14 shows (11 were shown,3 were unaired).
The cast of course scattered to do different projects and have attained various degrees of fame...but they almost always did the cons. I still hadn't seen any of the episodes,because its run was too short,most TV channels wouldn't buy the series to run and so I read glimpses of it in various mags like Starlog.
Then somewhere in Hollywood someone had a bright idea,what if we packaged these short series as sets,add some new content like a gag reel or fresh interviews and priced them smartly to encourage a steady sales stream?
Because until recently the only series sold on DVDs were established series with a few seasons under the belt. Of course you paid a hefty price as well,new seasons cost anywhere between 50 to 70 bucks. And for a long,long time that was the rule. But again someone got wise and noticed that sales cooled off rapidly after the initial release. People just couldn't afford to buy every new release at that price point and every year a TV series got older,the previous seasons sales dragged.
They kept hearing from fans about releasing older series from the 50's,60's and 70's but when the studios rolled out the DVDs at the same price as the current TV series,fans balked again. The studios started lowering the prices,slowly at first but when they saw how quickly the sets became to move,lowered them even more...
I only know from watching the shelves at Target,Best Buy and Costco that this was happening,there were a lot of shows Lori and I would want to see but just couldn't afford nor would we want to pay such high prices. So we waited and watched...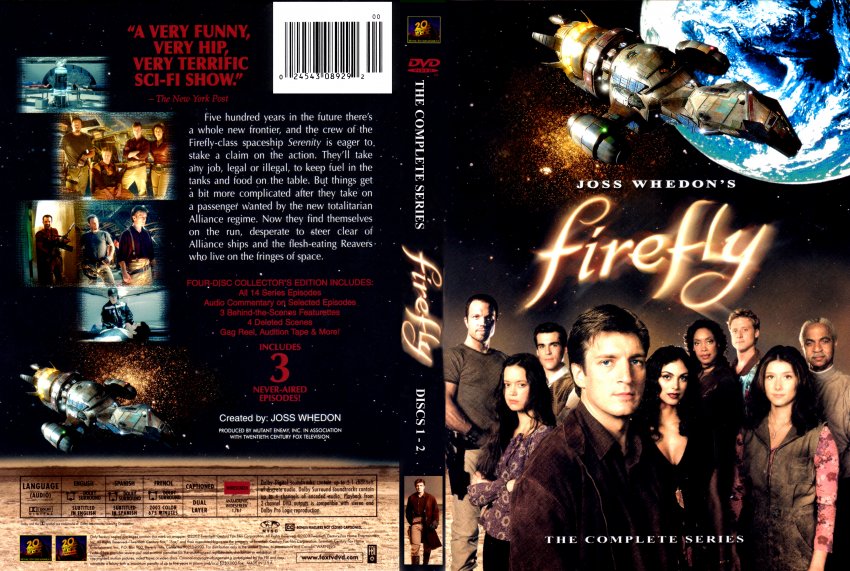 Maybe about 2.5 years ago while in Target,I spotted the Firefly DVD set,it surprised me because it was the first time I had seen a set from a show so quickly canceled and secondly,it was only sale for only 12.99. That was by far the best price I had seen for a set and so Firefly because my first buy...
But a funny thing happened on the way to the Forum,I never opened it...this was a weird habit I picked up from my music days. I would get CDs from labels and from local bands which I never got to listen to. I know folks who came over would look at my CD rack and 40-50 brand new CDs would be looking back at them.
This translated to DVDs, starting with Firefly. I bought and put it downstairs until last week. So while I have tons of Dollar Tree Theater movies to watch,I keep my eye out for cheap sets at Wal-Mart and Target.
As I went down to my basement,I caught the Firefly set and brought it up. I put it on and sat back to watch it.
I can completely understand why this show is so loved...Joss just is gifted beyond belief when it comes to casting a show (except for casting Sarah Michelle Gellar as Buffy). Angel was the first show I saw of his and I thought it just rocked. I challenge any fanboy to tell me that they didn't cry when Fred died and then Wesley do the same on the series's last episode!!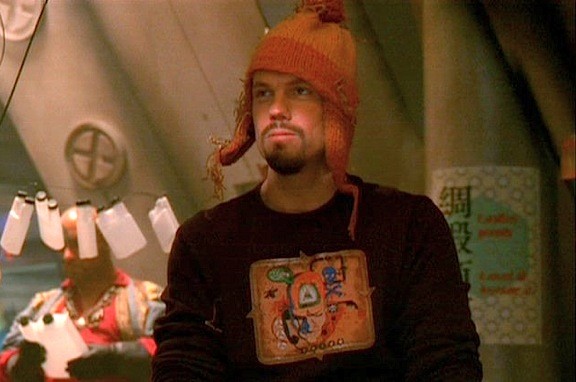 It wasn't surprising to see Adam Baldwin on Firefly,if Joss likes you as a actor,he will cast you in most anything he does. Its why you see so many familiar faces in his shows,a modern day Jack Webb if you really look at it. Webb did the same kind of casting in his shows,he used the same troupe over and over.
Same as Joss does. Adam played the heavy in last season of Angel and quite honestly,I am not quite sure he still wasn't in Firefly as he played the mercenary Jayne. Between questioning Malcolm's every move to almost betraying Simon and River,you just know you could never trust him...
Seeing Ron Glass in this was a surprise as I really hadn't seen him since his old show Barney Miller but seeing on screen as the Shepherd Book was a delight...even though there were a couple of episodes where he never appeared (hard to do on such a small ship!!) I thought he did a fine job...
Gina Torres.....I have been a fan of Gina's for a while....she did a stint on Angel and starred with Victoria Pratt in "Cleopatra 2525" which was a hoot to watch. Now that is a series I wonder if its been released as of yet. She played Zoe on Firefly and had fought with Malcolm in the civil war. As his second in command,she had the respect of the entire crew. She was married to...
Alan Tudyk,who played Wash,Serenity's pilot. You might remember him as Steve the Pirate in the movie "Dodgeball". He loved his wife more then anything else in the world and collected dinosaur figurines. His piloting skills saved the crew's bacon more then once....but every ship needs a ace mechanic and that would be Kaylee,played by the ultra adorable Jewel Staite.
She not only could fix the any engine but never forgot that she was a lady as well. Sometimes the men on Serenity forgot that and took Kaylee for granted. Which is a shame because while Kaylee made no bones about her feelings for.....
Simon,the ship's doctor and River's older brother,his attention was pretty much on helping his sister recover from the damage the government did to her. He also at one time or another pretty much patched up everyone at least one during show's run,including himself! Simon was played by Sean Maher,who later starred as a closeted gay man in another short lived series called "The Playboy Club". Sean used the role as platform to come out in real life. This is where I first saw Laura Benanti but that is another entry for another day....
The center of Firefly's plot was the mystery surrounding Simon's sister,River,played by Summer Glau.
The government aka The Alliance,operated on River in trying to create a perfect assassin. She could read minds and emotions but just was barely making progress when the series ended. But the operation must have worked because Summer starred as a Terminator in the "Terminator:The Sarah Connor Chronicles" for two years. She remains a huge fanboy favorite as she starred in two superhero series, "The Cape" (yet another short lived series) and "Arrow" as well as many other sci-fi/action roles.
Morena Baccarin played Inara who was a Companion. In the world of Firefly,a Companion was a highly sought after,affluent profession. Being seen with one elevated one's social status but others just considered them whores. Malcolm rented shuttle space to Inara which helped them gain access to places the crew wouldn't be able to..Malcolm and Inara seemed to be moving towards a relationship but when he sleeps with a old friend of Inara's,she plans to leave the Serenity.
I saw Morena for the first time on the remake of "V" a few years ago. Only saw parts of a couple of shows and read that the producers had invited the original Diana,Jane Badler,back in a different role. Morena's Inara is whip smart with a soft heart and often acted as Malcolm's moral center which he fought against at times.
I have to comment on one guest star who was just amazing her role as a ruthless con artist and that was Christina Hendricks,most people know her from Mad Men but her turn on Firefly is very,very good.
I may catch some heat here but I am still going to say this....I have watched Nathan Fillion in "Castle" four or five times. It's a cute show and I also watched him in James Gunn's "Slither" which also was a fun movie.
But after watching Firefly,I can say that Nathan Fillion is incredibly underused and unchallenged in comparison to his role as Malcolm Reynolds. His portrayal was so well rounded,harsh,kind,loyal,crass and deadly when needed to be.
The rest of cast...Summer Glau,Sean Maher,Gina Torres,Alan Tudyk,Ron Glass,Morena Baccarin and my favorite,the incredible sweet Jewel Staite was such a perfect blend. Making a Sci-Fi western was also pretty inspired and well thought out.
I thought every episode was extremely strong and watching the bonds among the crew develop each episode,while connections were made quick,the one key element,what exactly was River Tam (played by Summer Glau) fully capable of was never answered in the series but was explored in the fan driven follow up film "Serenity" which for some reason came up short at the box-office and most likely will end any further adventures of the Serenity crew. One can hope that with clout that Joss now has with the Avengers movie and soon the new Star Wars film,that he'll get another chance for one more voyage.
I am currently looking for a copy of the movie Serenity which I am having zero luck finding at my usual places....
How about you? Ever watch Firefly or any of the series I mentioned? What short lived TV series would you like to see on DVD??
If you are on Twitter,follow me @Jinzo_2400
Shout outs
Joss and the Firefly crew - Thanks for some amazing stories and unforgettable characters!
Michelle C- Happy birthday!!
Val - Glad you had a awesome night out!
Mike White - I have Twin Peaks season two,unopened....after hearing your podcast,it may never be opened!
Twilight - I am still alive and kicking!
Amy - Wow,a jump with the Golden Knights!! How cool is that????
Summer,you are not allowed to leave yet,I haven't had a chance to enjoy you!
Robin Williams - Thank you for your talent but sad your demons got the last laugh. You will be missed.